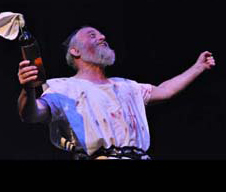 For twenty years the story of Yosl Rakover was believed to be an eyewitness account of the ghetto's last hours, and the true story of a pious Jew whose fate it was to die fighting the beasts that destroyed his world. In the hours before his death he reconsiders his relationship with G-d and concludes that although his relationship with G-d has changed, his faith in Him remains, and his love for Him burns as strongly as ever. The story was actually written in 1946, by Tzvi Kolitz, a young Palestinian who as a delegate to the World Zionist Congress traveled extensively to speak on behalf of the establishment of a Jewish State in Palestine. His clandestine purpose was to recruit fighters for the Irgun, of which he was a member. While in Argentina, he was asked to write an article for a Yiddish paper in Buenas Aires for their special Yom kippur edition. The result was Yosl Rakover Speaks to G-d. Through a set of bizzare circumstances the story was republished in an Israeli Yiddish journal without his name on it, and was assumed to be real. It has since been recognized as one of the classics of Holocaust literature, been translated into many languages, and been the subject of essays by theologians and philosophers. Adapted for the stage and performed by David Mandelbaum, directed by Amy Coleman, it makes for powerful and compelling theater. In Yiddish with English Supertitles.
"The Essence"is an eighty minute entertainment that is designed to introduce Yiddish theater to new audiences and to expose older patrons to the history of the form. Using scenes, songs, and anecdotal material, the program traces that history and shows how it relates to the history of the Jewish people from the 1870's to today, with humor, with melody, and with sympathy; as the saying goes, you'll laugh and you'll cry. "The Essence" was created and is performed by Allen Lewis Rickman, Steve Sterner, and Yelena Shmulenson-Rickman. It was first given a full production by New Yiddish Rep on December 17, 2007, and continually workshopped at NYR through 20010. It was last performed under NYR auspices at Ithaca College in 2015as part of 4 show festival (Jewish Luck, Yosl Rakover, Vartn Af Godot, and The Essence) sponsored by The Cornell University Jewish Studies program.

Thank you Professor Jonathan Boyarin.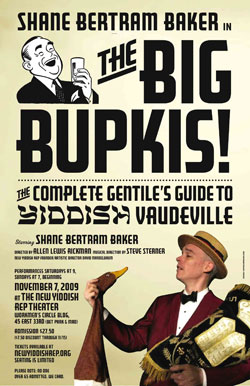 "The Big Bupkis!" is an evening of cheap jokes, magic, ukulele music, hypnotism, unpleasant stories about Sophie Tucker, transvestitism, and a Yiddish bullfight poem, among other theatrical indignities. Giving nothing away, the show ends with Mr. Baker attempting to behead a volunteer from the audience. The show mixes English and Yiddish, with snarky English supertitles projected over the stage, so, no, you don't have to know Yiddish to 'get it'! For more information on the show, see these reviews in nytheatre.com , The Jewish Standard , and Backstage . For excerpts of his performance, see here and here . "The Big Bupkis!" mixes English and Yiddish, with English supertitles." Kansas City native Shane Bertram Baker, widely recognized as the leading matinée idol in the Yiddish theater today, is acknowledged to be the first non-Jew (or Gentile) to ever get this far. How he became fluent in Yiddish; how he became a fixture in New York's booming Yiddish vaudeville community; how he became the executive director of the Congress for Jewish Culture (an esteemed Yiddish literary organization); and how he amassed credits as an actor, director, magician, and puppeteer of such accomplishment are all richly described and illustrated in this fascinating show.
Rafael Goldwaser David Mandelbaum Shane Baker Yelena Shmulenson
New Yiddish Rep and Der LufTeater
of Strasbourg France presented New York's only Yiddish theatrical presentation of the 2011 fall season, a new play adapted from Sholom Aleichem's one act Agentn, which takes place on a train, and his Ayzenbahn Geshichtes, stories centered around train travel. The piece was workshopped in New York last October, and presented in a series of staged readings in November. Adapted by Rafael Goldwaser, the plays final form was shaped by the collaboration of the ensemble and the rehearsal process itself.
'Agentn' of Yesterday and Today
By Boris Sandler
Editor of The Yiddish Forward
To perform Yiddish theater today, you need a lot of money, or a lot of ambition. The New Yiddish Rep theater company, led by David Mandelbaum, has the latter.
Mandelbaum is an actor and director who also plays most of the other roles a theater company requires. Like any typical theater person, he is always on the lookout for creative talent, and when he searches, he usually finds. For "Agentn," the New Yiddish Rep's latest production, Mandelbaum found five talented collaborators: director Moshe Yassur, clarinetist Dmitri Slepovitch and actors Yelena Shmulenson, Rafael Goldwaser and Shane Baker.
The play is based on the works of Sholem Aleichem, which makes for good theater, even though Sholem Aleichem himself was not a particularly impressive dramatist. The different parts of the play, which draw on several of Sholem Aleichem's stories, are unified by a small-town fortune-seeker who travels by train through different stations, trying to find "clients" and make a ruble.
Goldwaser contributes several monologues he has already performed in his own productions, which are brought within the larger narrative of the play. This unifying task fell to Yassur, whose challenge was to make the piece more than just a series of readings, even though the actors have their scripts onstage. Yasur managed this by means of the mise-en-scène, props, jokes, contact with the audience and, most of all, music.
Music, however, is perhaps the wrong word for it. Rather, Yassur uses a technique in which the clarinet, played by Slepovitch, participates as its own character in the drama. It inserts itself into the dialogue, sometimes in discontent, sometimes in pity, sometimes in reproach. It is even possible that the clarinet serves as a sort of internal voice, saying that not everything a person says is always what he's thinking.
Still, putting Sholem Aleichem on stage is no simple matter. There is especially the danger of falling into tastelessness and theater clichés. Fortunately, with "Agentn," that doesn't happen.
In earlier years you used to meet people who were attached heart and soul to Yiddish culture. They would do anything in order to help talented writers, musicians, directors, theater troupes, and other creative people realize their projects. The question remains, has this type of bold person disappeared from the Yiddish horizon?
— Translated by Ezra Glinter
"Wolf Mankiwitz was the son of a Russian emigrant, Solomon Mankowitz, who sold antiques and second-hand books in an open-air East End market and who imbued his son with a love of both."
"A renaissancw man." - Richard Burton
"A sort of East End Joyce." - Anthony Burgess
"A f**k 'em Jew." -Frederic Raphael!
For more on this fascinating writer have a look at his
NY Times obit

Daniel Kahn, Suzzane Toren, and Avi Hoffman in a scene from NYR's production of Arthur Miller's classic. It was nominated for a Drama Desk Award for best revival of a play, and Avi Hoffman got a well deserved nomination for best actor. Moshe Yassur's direction was masterful, and should not have been overlooked.

"The use of Yiddish in this production is not just a gimmick, but enhances the storytelling in beautiful and clever ways. If you've seen Death of a Salesman before, this production will offer a unique viewpoint, and will allow you to rediscover this classic play in an interesting way." - Theatre is Easy

"It's been sixty-six years since Death of a Salesman opened at the Morosco Theatre. Since that time the drama has come to be seen as a penetrating indictment of the American Dream and one of the best American plays of the 20th century. However, New Yiddish Rep's Yiddish translation opens up whole new vistas of interpretation...Last season, New Yiddish Rep produced a Yiddish version of Waiting for Godot that made the play live in surprising new ways. After seeing this version of Death of a Salesman, it's not hard to speculate on how much better even this great classic might have been if Miller had been more in touch with his roots." - Curtain Up

..."These are Lomans fit to bruise some hearts...language in Moshe Yassur's production is no barrier, thanks to the fineness of the performances..." - New York Times

"Yiddish Breathes New Life Into Death Of A Salesman...This is Yiddish that just is, with no justifications, explanations or apologies. It's a fascinating thought experiment — and also great theater." - Forward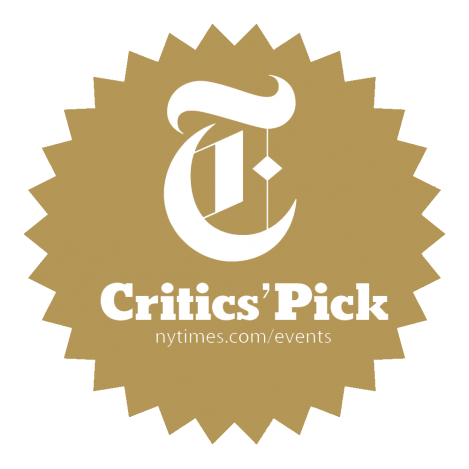 Lovely Family. If They didn't Have A Brothel Downstairs
by Chris Isherwood
New York Times critics pick
Questions of guilt and retribution gnaw ceaselessly at the heart of Yankl (Shane Baker), the central character in Sholem Asch's "God of Vengeance," which is being given a timely revival by the New Yiddish Rep at LaMaMa. A pious Orthodox Jew, Yankl makes his living in what remains a highly unorthodox profession: He owns a brothel that sits below the apartment in which his family lives.
Asch's 1907 play, esteemed and widely produced in Europe, caused a scandal when it was staged in New York, ultimately opening on Broadway in 1923 and creating such a ruckus that the entire company was hauled into court on charges of indecency. The timeliness of this production — performed in Yiddish with English supertitles — has everything to do with the arrival on Broadway this spring of Paula Vogel's "Indecent," a powerful drama depicting the tumultuous history of the play and including some passages from it.
But "God of Vengeance" holds the stage formidably in its own right, primarily for its forthright depiction of the love between Yankl's teenage daughter, Rifkele (Shayna Schmidt), and Manke (Melissa Weisz), one of the women who work in the brothel. The play is remarkable, too, in its nuanced depiction of Manke and her fellow prostitutes Basha (Mira Kessler) and Reyzl (Rachel Botchan). Although some may find that Basha's genial acceptance of her lot is romanticized, she frankly boasts that she has freedoms, even living as she does, that would be denied her in the hidebound community where she grew up.
Rifkele, played with lovely sensitivity by Ms. Schmidt, yearns for freedom, too — the freedom to love Manke — but her father is busy arranging a good marriage for her, with the help of Reb Eli (a wryly funny David Mandelbaum), the matchmaker, who blithely brushes away Yankl's almost obsessive sense of guilt over his business, assuring him that as long as he's a good Jew, everything will be fine.
To redeem himself in the eyes of God, Yankl has paid to have a Torah scroll created, and his most fervent hope is to find Rifkele a respectable Jewish husband, as if by raising her strictly and setting her up in a traditional marriage, he could expunge the sense of his own sinfulness that festers in his soul. Mr. Baker imbues the character with a tormented single-mindedness that neatly defines his predicament.
The production is deftly directed by Eleanor Reissa, who is terrific in the role of Yankl's wife, Sarah, herself a former worker in Yankl's brothel. Now dutifully playing the role of subservient wife, Sarah properly wears a wig when necessary. It is Sarah who tries desperately to bring Rifkele back home when she steals away with Manke. They are enticed by Yankl's procurer Shloyme (a wonderfully slimy Luzer Twersky) and his girlfriend Hindel (Caraid O'Brien, making something fairly fresh of the hooker with a heart of, well, tinsel if not gold), to start up a new stable.
The production is somewhat cramped on the small stage at LaMaMa — the cluttered set almost resembles a used-furniture shop — and the contemporary setting adds nothing much to the play. But the cast's commitment brings the work's flashes of lyricism to powerful life. Most moving is the scene in which the women exchange confidences as rain pours down, and customers are sparse. Basha, played with marvelous grace by Ms. Kessler, has no regrets for fleeing the marriage that was being forced upon her, but she is still haunted by visions of her dead mother.
Manke calls to Rifkele, who sneaks out of the house and joins her in the rain. They share a tender scene in which Manke playfully pretends to be Rifkele's bridegroom and impulsively implores her to come away with her so they can share a life together. The purity of the affection between them is beautifully played, and Asch's sympathetic depiction of their love is affecting in its honesty. Even writing in the early years of the last century, he makes it implicitly clear that in his view, it is not God's vengeance that Rifkele and Manke need to fear — only man's.
>
The other day Trump used the phrase
"my followers."
That says it all. Every theater in the country that cares about freedom, human rights, and our way of life ought to produce this play. Hitler came to power in 1933 with only 36% of the vote. By 1939 he brought on a World War. Lets hope we don't start seeing rhinoceroses in the streets. The folks in Charlottesville already have.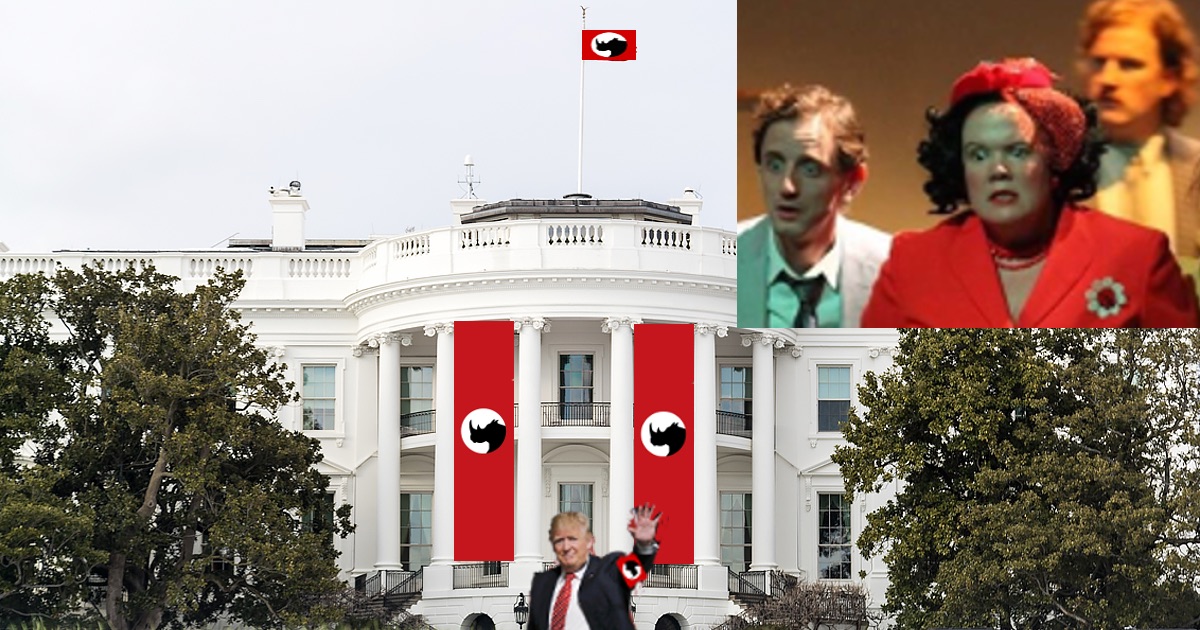 An adaptation of the Clifford Odets classic translated by Chaver Paver as commissioned by The Federal Theater Project in 1935. Lea Kalisch and Gera Sandler in a steamy scene from our production.
A classic play sounds more American when it is performed in Yiddish. - JTA
read the review
The New Yiddish Rep's current production of Awake and Sing, Clifford Odets' 1935 American masterpiece, is a 21st century miracle. It validates Artistic Director David Mandelbaum's mishegas/obsession of establishing a Yiddish acting company performing modern plays, either written or translated into Yiddish, that attract diverse appreciative audiences of many ages, which describes the ticket holders at the performance I attended. - Theater Pizzazz
read the review
© 2018 New Yiddish Rep