| | | |
| --- | --- | --- |
| CREATING THEATER OF QUALITY AND CONSEQUENCE FOR A WIDE AUDIENCE...IN YIDDISH! | | |
---
SELTZER NIGHTS




4 FABULOUS SATURDAYS!

MARCH 21-APRIL 18-MAY 9-JUNE 13
Tickets:$35 4-Show package $100
Call: 866-811-4111
online: $35 each 4 for $100
Seltzer Nights recreates the bawdy, boisterous and often back-biting atmosphere of a Yiddish music hall on the Lower East Side a century ago. This audacious new show features a who's who of today's booming downtown Yiddish theater and music scene, including international klezmer superstar Frank London and the ridiculously talented actor-singer-musicians Shane Baker, Allen Lewis Rickman, David Mandelbaum, Yelena Shmulenson, Michael Winograd, Amy Coleman, and Ilan Kwitken.

Seltzer Nights, from the guys that brought you the internationally acclaimed Yiddish "Waiting for Godot" (that got its start here at Castillo), dusts off some of the more risqué songs and comedy routines of a by-gone era, as well as some of the more blatantly theatrical moments of popular melodrama that were once all the rage on the Yiddish rialto. Summoning up the spirits of legends Molly Picon, Jenny Goldstein, Jacob Adler, Boris Thomashefsky, Fanny Brice, and the comedy duo Dzigan and Schumackher, Seltzer Nights will keep you up at night… just like a good pastrami sandwich.
---
"Was I sleeping, while the others suffered? Am I sleeping now? Tomorrow, when I wake, or think I do, what shall I say of today?"

Recognizing the humanity of the other.



At the heart of "Waiting For Godot" is a simple message: Put yourself in the other guy's shoes.
Immerse Yourself In A Yiddish Theater Classic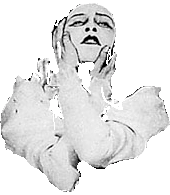 THE DYBBUK
Be possessed by a unique theatrical experience.
From the study house to the exorcism, watch it from the sidelines, or live it if you dare.
---
Put me on your mailing list.