"WAS I SLEEPING WHILE THE OTHERS SUFFERED"
VARTN AF GODOT
December 21 - January 27
Theater at the 14th Street Y
344 E. 14th Street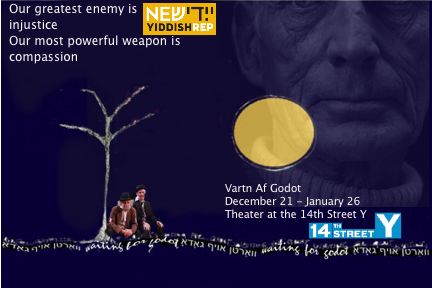 ---

Written in the aftermath of World War 2, a tragedy that left at least 60 million people dead and millions more homeless and destitute, it is clear that Gogo and Didi represent refugees every where.
Hermanos y hermanas que huyen de la violencia y la persecución,
¡somos tú!
tus hijos son nuestros hijos!
REUNITE THE FAMILIES NOW!
"Beckett's play (which was originally produced in French) may finally have found its mother tongue."
- The New Yorker

With "Waiting for Godot," it (NYR) has shown not what the Yiddish language has contributed to theater in the past, but what it is still able to contribute today. And that is well worth waiting for. - Forward

"the production attempts to restore Godot to its language of origin. It convincingly returns the play to the historical context of post WW II Europe in which Beckett was writing... Adrian Dunbar says: "I'm looking forward to seeing the Yiddish Godot again, that's a fabulous piece and a great entry point for Beckett and for understanding the play. To see Godot in another language is quite extraordinary."
- The Irish Times

Since arriving in New York in 2013 Gogo and Didi have traveled the globe looking for the right place to wait for the elusive Godot. They went to Ireland, then to France. Even tried upstate New York. This December they're coming back to the city. To wait, in hope...
Some things to look forward to:
THE WHORE FROM OHIO
July 19 and August 2
at 7 PM
315 W. 39th Street Studio 902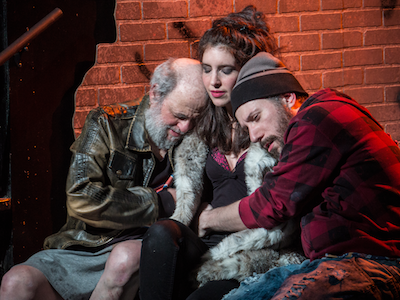 Another chance to see Hanoch Levin's classic, in Yiddish with English supertitles.
---
KinderTheater
The Greedy Man, The Wise Rabbi, and A Pink Goat
Introducing children to Yiddish through theater games and puppets. Without your children and grandchildren learning to love Yiddish we might as well close up shop and content ourselves with the preservation of texts and documents. We hear over and over again: "my parents spoke Yiddish when they didn't want us to understand what they were saying." Or, my grandmother sometimes spoke to us in Yiddish." Your grandchildren will have no direct connection to Yiddish unless you gift them with it. We hope to make this a regular weekly feature of our programming.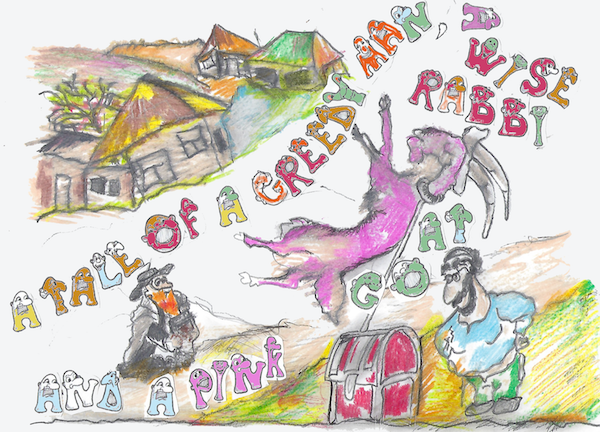 ---
Recent Productions
(2017 - 2018)
---
Past Productions




© 2018 New Yiddish Rep

S