June 11 to July 2
BUY TICKETS ONLINE OR CALL: 800 838-3006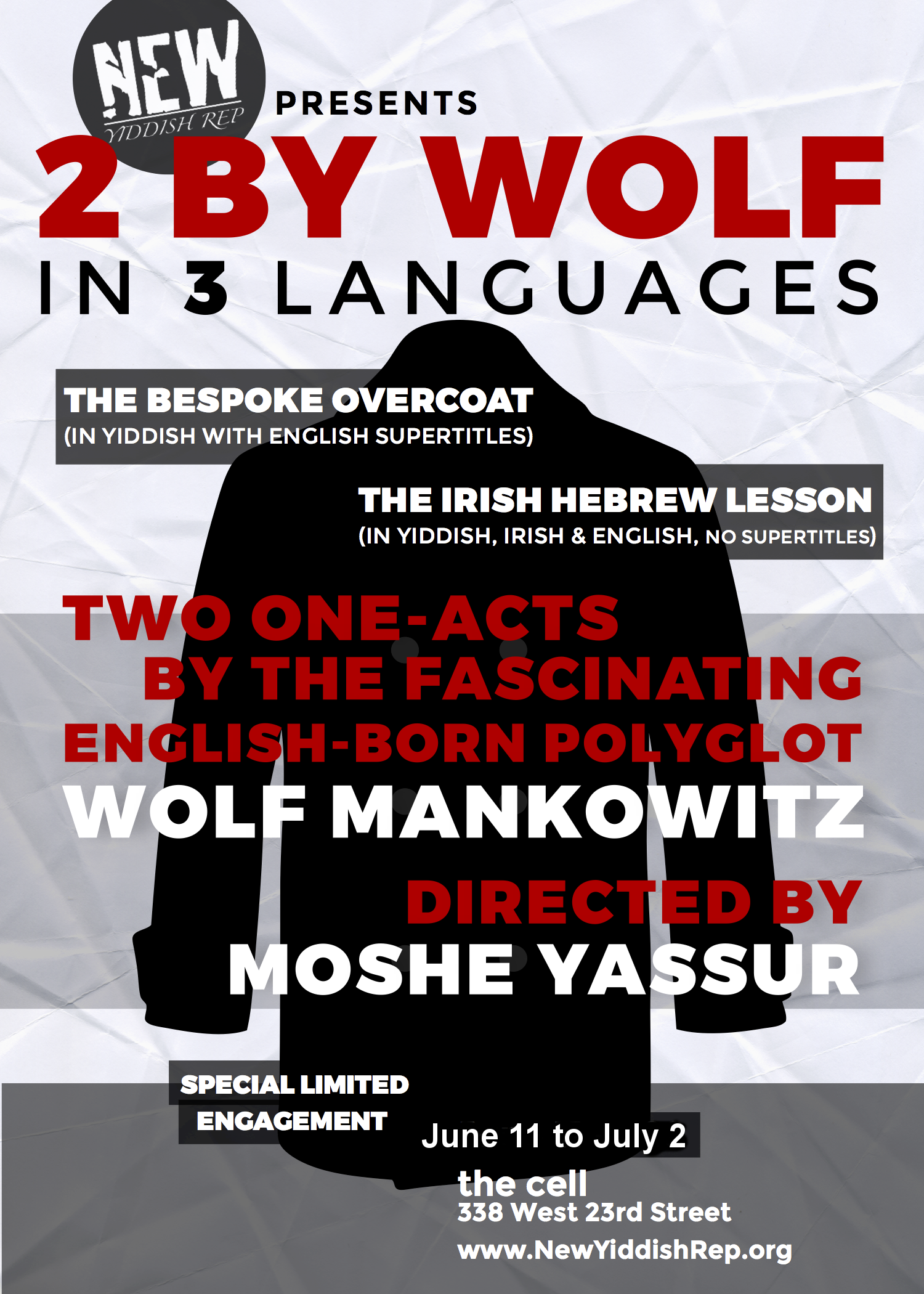 with
Shane Baker
Stuart Cullen
Michael Fox
Lev Herskovitz
Ilan Kwittken
Fergal O'Hanlon

Tickets $25






June 11
to
July 2

weekdays
7:30 PM
Sundays
3 PM
"2 by Wolf" reintroduces us to one of the most intriguing Jewish writers of the 20th century, who, as a streetwise East End-born, Cambridge-educated Renaissance man, was both a product of the "angry young men" generation of post-war England, as well as a populist, deeply affirmative storyteller, with mame-loshn embedded in his soul.

The first play, "The Irish Hebrew Lesson" is perhaps the only tri-lingual play of its kind written in English, Irish and Yiddish. It will be performed as written with no supertitles. First produced in 1972 as a film directed by Mankowitz starring Milo O'Shea, it is the story of three men in Cork in the early '20s who, under surprising circumstances, discover a deep affinity between their Jewish and Irish cultural and religious backgrounds. Its world premiere as a play was in 1978 in London.

The second, "The Bespoke Overcoat," is based on the short story by Gogol, and was Mankowitz's breakthrough -- first as a play in 1953 and then a movie in 1956, both starring the highly regarded David Kossoff. Transposing from Russia to the East End of London the story of a lowly clerk who covets an overcoat even after he dies of cold, the film won the Oscar in 1957 for Best Short Subject. This is the play's first-known production in Yiddish, in a new translation by Shane Baker. English supertitles will be supplied.

Prodigious playwright, producer, scholar, poet, journalist, screenwriter, TV panelist and authority on Wedgwood china, Mankowitz (1924 to 1998) lived out his days in Cork Ireland, and for some reason never attained the same level of respect in America that he achieved in England and Ireland.