Coming Up...
Labor Day Weekend
The Big Bupkis and Yosl Rakover at Ashkenaz 2014
Directed by Allen Lewis Rickman
Musical Director Steve Sterner
Recommended for Gentiles and Jews alike.
-nytheatre.com
Baker's fantastic nostalgia is decidedly 21st century...a silly, satisfying 75 minutes.
-Backstage
Baker delivers...laugh-out-loud funny.
-The Jewish Standard
Read the reviews and a profile of "himself."
Yosl Rakover Speaks To G-d
ZVI KOLITZ'S holocaust classic adapted for the stage and performed by David Mandelbaum, directed by Amy Coleman.
In the ruins of the ghetto of Warsaw, among heaps of charred rubbish, there was found, packed tightly into a small bottle, the following testament, written during the ghetto's last hours by a Jew named Yosl Rakover.
Not to be missed.
-Jerry Stiller
More...
SELTZER NIGHTS
SHMUTZ!!!
A CRIME AGAINST DECENCY!!!
THE WRONG KIND OF AMERICANIZATION!!!!
HOLY ART!!!
FIRST CLASS YIDDISH VARIETY!!!
WHERE PAINTED WOMEN AND SHADY MEN GATHER!!!
An audacious new show headlined by the preeminent Yiddish vaudevillian Shane Baker and starring a cast of tens will shake things up at New York this winter. "Seltzer Nights" recreates the bawdy, boisterous and often back-biting atmosphere of a Yiddish music hall on the Lower East Side of a century ago, but with much better acoustics. Staged as an immersive theatrical cabaret, this star-infested variety show features a who's who of the booming downtown Yiddish theater and music scene. "Seltzer Nights" dusts off some of the more risqué songs and comedy routines of the time as well as some of the more blatantly theatrical moments of popular melodrama that were all the rage on the Yiddish rialto. Summoning up the spirits of legends like Molly Picon, Jenny Goldstein, Jacob Adler, Boris Thomashefsky, Dzigan and Schumackher, and Fanny Brice, "Seltzer Nights" will keep you up at night. Just like a good pastrami sandwich!
Immerse Yourself In A Yiddish Theater Classic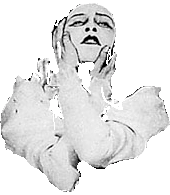 THE DYBBUK
Be possessed by a unique theatrical experience.
From the study house to the exorcism, watch it from the sidelines, or live it if you dare.
---
Put me on your mailing list.