| | | |
| --- | --- | --- |
| CREATING THEATER OF QUALITY AND CONSEQUENCE FOR A WIDE AUDIENCE...IN YIDDISH! | | |
---
TWO NIGHTS ONLY MAY 17th AND 18th Buy Your Tickets Now
"In 1921 the GOSET troupe moved into a theater right near the Kremlin. For 28 years, through purge, terror, and paranoia, they presented world-class theater in Yiddish to audiences that only spoke Russian. Then they went too far."



MAKING STALIN LAUGH tells the story of Solomon Mikhoels and his GOSET Yiddish theater in Moscow. Moscow was home to very few Yiddish speakers. But GOSET wasn't in the Soviet capitol to entertain the local Jews. Like the Bolshoi Ballet was in the '60's and '70's, GOSET was one of the jewels of Soviet culture, and the Soviet government wanted it to be where foreign visitors could see it and be impressed by it.

Life for the troupe's members was never easy. In the totalitarian system of the U.S.S.R. artists had to step very lightly in order to survive. Literally that: in order to survive. But thanks to Mikhoel's shrewd navigation of the Soviet system, GOSET managed to stay afloat when other prominent theaters went under. At least until the wave of official anti-semitism after WWII.

Still, through all that time, behind all the maneuverings and about-face turns necessary to keep the theater going, the actors remained exactly that -- actors. All the typical backstage mishegasim, the jealousies, the affairs, the egos, all the craziness you expect in any backstage comedy, were there in GOSET, and are there in MAKING STALIN LAUGH.

Originally presented in London in an English-language production, New Yiddish Rep's multi-lingual workshop production will be the play's American premiere. In this revised version of the play, the characters in the play will sometimes speak Russian, sometimes Yiddish, sometimes English, sometimes German, etc., just like their real-life prototypes did -- but all dialogue will be simultaneously translated via English supertitles projected directly over the actors' heads. (Like in a comic strip.)

MAKING STALIN LAUGH was written by David Schneider, who has written for multiple British television series, and is a well-known U.K. comedy performer. The cast of this workshop production includes Israeli television star Gera Sandler and Yelena ("A Serious Man") Shmulenson. The director is Allen Lewis Rickman ("The Big Bupkis", the Yiddish "Pirates of Penzance").

MAKING STALIN LAUGH will be presented for two performances only, on May 17th and 18th at 7:00pm, at Theatre 80 St. Marks Place. Tickets are $25.
---
"Was I sleeping, while the others suffered? Am I sleeping now? Tomorrow, when I wake, or think I do, what shall I say of today?"

Recognizing the humanity of the other.



At the heart of "Waiting For Godot" is a simple message: Put yourself in the other guy's shoes.
Immerse Yourself In A Yiddish Theater Classic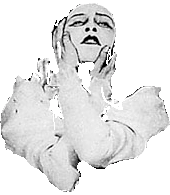 THE DYBBUK
Be possessed by a unique theatrical experience.
From the study house to the exorcism, watch it from the sidelines, or live it if you dare.
---
Put me on your mailing list.