New Yiddish Rep at the Jewish Play Project's
OPEN: Festival of New Jewish Theater
presents a reading of


God Of Vengeance




by Sholem Asch


in Yiddish with English super-titles
directed by
Eleanor Reissa
Saturday June 25 and Sunday June 26 at 7 PM
THE THEATER AT THE 14TH STREET Y
344 EAST 14TH STREET (AT 1ST AVE)
suggested donation $18


get your tickets here

---

UPSTAIRS
Shane Baker
"The Uncle" (The Pimp)
Eleanor Reissa
His wife (The Madam)
Miryem-Khaye Siegel
The "Kosher" Daughter

DOWN AND OUT
Ben Rosenblatt
Shloyme (The Young Bull)
Caraid O'Brien
Hindl (Shloyme's Moll)
David Mandelbaum
Reb Eli (The Shady Shadchan)
---
Even Though Godot Didn't Show
Our Trip to Paris Was A Great Success
It was a shame to get up from one's seat after nearly two hours, during the course of which Beckett's lofty, universal, creation, was so magically intermingled with the joy of the Yiddish word.
-Yitschok Niborski in The Yiddish Forward
Read the full review in English and Yiddish here.
Without your support this work isn't possible. We've barely raised half the funds we need to pay for this project. Fortunately we received some grants that made it possible to get there, but we are still in the red and need your help to reach our goal, pay our debts and start our next project with a clean slate. DONATE HERE.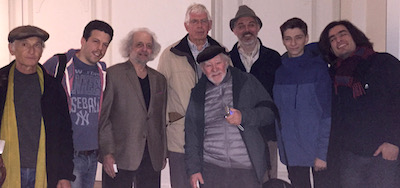 The Yiddish community in Paris was effusive in their praise, and the sponsors of the festival were once again captivated by the Yiddish "Godot." Below from left to right: Rafael Goldwaser, Ben Rosenblatt, David Mandelbaum, Edward Beckett, Moshe Yassur, Shane Baker, Isaac Segal, Ata.
Subscribe to our mailing list